30 years of Bikes, Race Cars and Shifter Karts
I bought my first motorcycle when I was 15 years old. A Kawasaki F11 dual purpose.
My first job after high school was with "Kawasaki Canada" (F. Manley Corp.)
I worked for "Ross Sully Metal Specialities" modifing frames on race bikes in the 80's.
Worked for "Bramall" for 5 years in the 90's selling Turbochargers.
Now I work for "Hindle" making motorcycle exhaust systems.
WHAT NEXT!
Jim.Breslin.CA Send Email to: jp@breslin.ca (Best viewed in 1024x768)


BIKES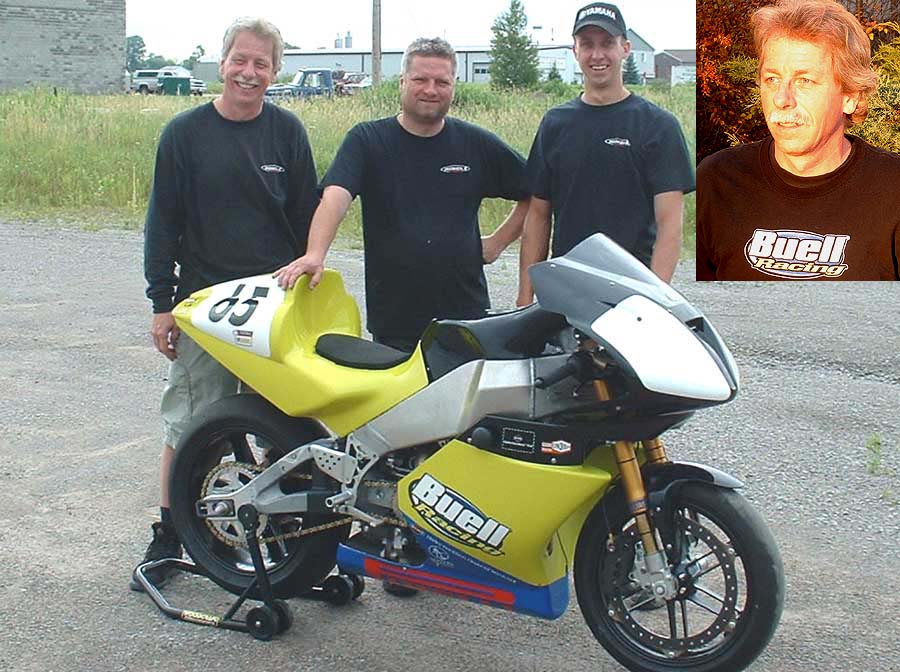 July 18th 2006 @ Hindle Exhaust. Jim, Andy & Dave
build a system for the Buell XBRR AMA Formula Extreme bike
for Pascal Picotte .

My 1972 Kawasaki H2


My 1976 Kaw Z1 1974 Modified CB 500 1974 Honda XL250 Kaw F11 in 1975

Jim & Jimmy in 1993 on my 1987 Yamaha DT200

My 2000 Kawasaki Zx9 (Click photo to Enlarge) 2007


Alex's custom Ducati
Center Photo @ The Toronto Motorcycle Super Show Jan. 2007
(Click photo to Enlarge)


My 1981 Kawaski GPZ 550 (2006)
Click here to see more: GPZ550 photos from 2006.

Click here to see more: KAWASAKI RACING PHOTOS from 2003
SHIFTER KARTS


Jim at Shannonville - Pro Track - 2003


Nigel on Jim's Kart at Mosport - Aug 26 , 2006
RACE CARS


Turbo Mitsubishi Dragster - Grand Bend Motorplex - 2004


Mosport with Marcus Glarner and his 1973 BMW 3.0CSL - 2003

The #40 M1 @ Mosport 1981 Marcus Glarner's #40 M1 2003
(click photo to enlarge)